Q1: Welcome to prayer training by Jesus..
Make sure you have understood the childlike foundations first:-

(1) How to support Jesus , how to receive "Faith" power daily.

(2) Former rains in Jesus, learning to keep the mind prepared.
(3) Latter rains in Jesus. Keeping spiritual revival going.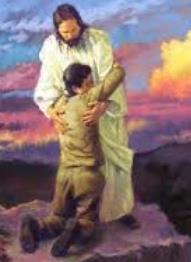 (4) You are ready for prayer training. How to experience deeper flow from Jesus through prayer and fasting.
Dear reader, do NOT think we are more powerful than you, or whatever.
We are in a child like state for a reason and we do the training to experience Jesus more and more. It only takes a spark to get a fire going. Can you imagine if the local area of your church saw a public wonder of Jesus before their eyes? Such miracles do not happen today I remember a Pastor of mine said many years ago. Funny that, a little girl of five years old, supported Jesus in prayer and received manna in modern times, on the Sunday of March 19, 1945. Wow, and no Pastors went to find out why and how such prayers are answered?
Imagine prayer promises coming down from Jesus, because of your relational prayers to Jesus! It only takes a spark to get a fire going. How come five year old children pray better to Jesus than us older children do? So this training here in the 150 chapters of Psalms are really prayers for us to learn how to pray.
God bless your training and journey.
May we be able to pray pubically prayer promises for others.
Prayer is about power. Do not pray as an "empty storm". All show but no promise. All words but no actions. Big promise but no rain.
Ex 20:7 Thou shalt not take the name of the LORD thy God in vain; for the LORD will not hold him guiltless that taketh his name in vain. (KJV)
Can't read the third commandment of GOD very well?
Ex 20:7 Thou shalt not take the name of the LORD thy God like an "empty storm"; for the LORD will not hold him guiltless that taketh his name "like an empty storm". (Ancient Hebrew)
See comments on "empty storm", the picture of this Hebrew word.
Receiving privately revealed wonders from Jesus is something we should do first. Supporting Jesus is something we do gradually, with small child like steps. Our "faith grows" as we experience deeper trust in Jesus and our relationship to Him.
The most common private wonder the Author receives from Jesus is "call on me, and I will answer" Jeremiah 33:3, and is prayed each night for Jesus to wake me at 3:00 am for spending time with Jesus in worship. He does this prayer promise quietly and always close to the time, without the use of human made devices like alarm clocks. Learn to trust Jesus and gradually pray deeper and more powerful prayer promises from His Words.
Learn the relationship conditions you need as well, to pray to Jesus as a "storm that brings rain". Do not pray as an "empty storm". Jesus is the "man" that feeds us from heaven daily. Trust in His prayer promises and pray His words. Thank Jesus for the promised rain, the showers of blessings to you today. Shalom
The Scroll of Jesus says to us children:-
Jesus 14:2 Take with you words, and turn to the LORD: say unto him,...(KJV)
So we take Jesus' words, and turn to Jesus, praying to Him... any child can do this, big children, adult children and even five year old children..
God bless our prayer training. Shalom

Let's begin with childlike training by Jesus, seven years ago:-


My strong authority be praised ! Jesus is talking to me, through my conscience in prayer.
Prayer is listening to Jesus.

Me: "I have forgotten my diary book";
AJ: "Walk back and get it, there's time..."
Me: [looking at my mobile phone time] "not enough time..."
AJ: [silence]
Me: "walks to wharf, waiting for ferry boat..." [after long time...a couple arrives, he starts fishing and leaves his wife to fish, while he fishes elsewhere...]
AJ: "..talk to her.."
Me: "not me Lord.." [ despondency ]
AJ: "..be my witness..."
Me: [ a man arrives and I talk to him....finally...after many excuses to fumble time..]"..Alright..."
AJ: "..the servant who says He will go..but doesn't.."
Me: "..I see the boat is not coming..." [...finally I talk to her,.. we make light talk of timetables, and boats...]
AJ: "..meekness is not just about weakness...its also about courage.."
Me: "..I see.."
"Courage" Learning to have the courage to witness, and talk when Jesus tells me to talk His words.
"When Jesus talks, listening happens, but so one must be obedient".
Obedience is a difficult thing to achieve, especially when we are weak and lack courage, but even more so when our sin of pride stands in the way. The ferry boat was late, running on a different time table today. Jesus was right, I had time to walk back and get my diary book, in fact 2 hours of time. So I wait for the next ferry boat, several hours ahead of time, with time to record another example of prayer, for you, the reader. In an effort to show you how prayer works, how Jesus through prayer expects obedience, and notice how fast prayer is answered. Prayer is Jesus talking to you. Often we see prayer as the proud sinner praying to his god . This is a contradiction. Most times the only person strong authority we are talking to , is ourselves. Prayer is mostly about Jesus talking back to you. So listen and wait for the still small voice. Shalom
Jesus brought His servant, this communication the morning of Teusday April 26 2011, seven years ago now.
Update February 2019, after studying 25 prayers so far.
The Author has forgotten the reader. Sorry. You probably do not hear GOD speaking to you via your conscience. So you're wondering, how is this achieved?
I often ask how do I know if the right spirit is speaking to me? The answer I receive is "by your fruits, ye will know". Good water does not flow from a bad spring. We discern the spirits by Scripture study. Test the spirits says 1 John 4:1.
The Author is not yet sure if the Scriptures detail how to pray, or how often or in which manner. (Studied 25 prayers so far)
It's possible the details are in the 150 chapters of Prayers, but one has to learn the training first.
In the meantime, pray as a child prays, weakly...innocently and with honesty. God will overlook your weakness and honour your words. Praying is a fun way to talk to God and listen to Him talk back to you. This training time promises you how to support Jesus and claim those seeds of power flowing through your life. Shalom

Next we look at some child like prayers many years ago, as examples of prayer.
Prayer theme