Q40: 47. Ministry
Show the Desire of Ages is inspired..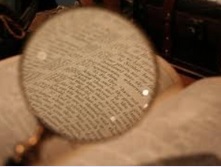 (1) The ultimate salvation example by Jesus
Again the Prince of life and the prince of the powers of darkness had met on the field of battle,--Christin fulfillment of His mission to "preach deliverance to the captives, . . . to set at liberty them that arebruised" (Luke 4:18), Satan seeking to hold his victim under his control. Angels of light and the hostsof evil angels, unseen,
Jesus asked, "Howlong is it ago since this came unto him?" The father told the story of long years of suffering, and then,as if he could endure no more, exclaimed, " If Thou canst do anything, have compassion on us, and helpus." "If Thou canst!" Even now the father questioned the power of Christ.Jesus answers, "If thou canst believe, all things are possible to him that believeth." There is no lack ofpower on the part of Christ; the healing of the son depends upon the father's faith. With a burst of tears, realizing his own weakness, the father casts himself upon Christ's mercy, with the cry, "Lord, I believe;help Thou mine unbelief."
The pitying Saviour's answer is, "If thou canst believe, all things arepossible to him that believeth." It is faith that connects us with heaven, and brings us strength forcoping with the powers of darkness. In Christ, God has provided means for subduing every sinful trait,and resisting every temptation, however strong. But many feel that they lack faith, and therefore theyremain away from Christ.
Notice the ultimate demonstation how salvation works, is explained here by the SOP.
Hab 2:4 Behold, his soul which is lifted up is not upright in him: but the just shall live by his faith.
This verse is translated correctly and is the only verse in the entire Bible, especially the OT that simply explains how salvation works. Paul takes this single verse and uses it many times in the NT.
Let's go through every verse in the Holy Writings to see what faith means to salvation:-
De 32:20 And he said, I will hide my face from them, I will see what their end shall be: for they are a very froward generation, children in whom is no faith.
My people lack faith
Hab 2:4 Behold, his soul which is lifted up is not upright in him: but the just shall live by his faith.
A righteous or straight person lives by faith in GOD.
Mt 6:30 Wherefore, if God so clothe the grass of the field, which to day is, and to morrow is cast into the oven, shall he not much more clothe you, O ye of little faith?
We lack faith
Mt 8:10 When Jesus heard it, he marvelled, and said to them that followed, Verily I say unto you, I have not found so great faith, no, not in Israel.
Some had great faith
Mt 8:26 And he saith unto them, Why are ye fearful, O ye of little faith? Then he arose, and rebuked the winds and the sea; and there was a great calm.
Disciples had little faith
Mt 9:2 And, behold, they brought to him a man sick of the palsy, lying on a bed: and Jesus seeing their faith said unto the sick of the palsy; Son, be of good cheer; thy sins be forgiven thee.
Demonstrating faith by doing things
Mt 9:22 But Jesus turned him about, and when he saw her, he said, Daughter, be of good comfort; thy faith hath made thee whole. And the woman was ma de whole from that hour.
Healed according to faith
Mt 9:29 Then touched he their eyes, saying, According to your faith be it unto you.
Healed according to faith
Mt 14:31 And immediately Jesus stretched forth his hand, and caught him, and said unto him, O thou of little faith, wherefore didst thou doubt?
Peters great faith becomes doubt
Mt 15:28 Then Jesus answered and said unto her, O woman, great is thy faith: be it unto thee even as thou wilt. And her daughter was made whole from that very hour.
Woman with great faith
Mt 16:8 Which when Jesus perceived, he said unto them, O ye of little faith, why reason ye among yourselves, because ye have brought no bread?
Disciples with little faith
Mt 17:20 And Jesus said unto them, Because of your unbelief: for verily I say unto you, If ye have faith as a grain of mustard seed, ye shall say unto this mountain, Remove hence to yonder place; and it shall remove; and nothing shall be impossible unto you.
Our faith must be as big as a mustard seed is tiny
Mt 21:21 Jesus answered and said unto them, Verily I say unto you, If ye have faith, and doubt not, ye shall not only do this which is done to the fig tree, but also if ye shall say unto this mountain, Be thou removed, and be thou cast into the sea; it shall be done.
Have faith in Jesus, doubt Him not.
Mr 11:22 And Jesus answering saith unto them, Have faith in God.
Have faith in GOD
Lu 17:5 And the apostles said unto the Lord, Increase our faith.
Can Jesus increase our faith? Is faith a gift from Jesus, or something we must believe in?
Lu 18:8 I tell you that he will avenge them speedily. Nevertheless when the Son of man cometh, shall he find faith on the earth?
The biggest test of people on earth today is, do we have faith in Jesus?
Lu 18:42 And Jesus said unto him, Receive thy sight: thy faith hath saved thee.
Having faith saves us..
Ac 3:16 And his name through faith in his name hath made this man strong, whom ye see and know: yea, the faith which is by him hath given him this perfect soundness in the presence of you all.
Wonders of Jesus come by faith in His Name.
Ac 6:5 And the saying pleased the whole multitude: and they chose Stephen, a man full of faith and of the Holy Ghost, and Philip, and Prochorus, and Nicanor, and Timon, and Parmenas, and Nicolas a proselyte of Antioch:
A major clue, faith is a person full of the Holy Spirit, who represents Jesus in person. Thus a person with faith, really knows Jesus in relationship.
Ac 6:7 And the word of God increased; and the number of the disciples multiplied in Jerusalem greatly; and a great company of the priests were obedient to the faith.
Such people were obedient to Jesus.
Ac 6:8 ¶ And Stephen, full of faith and power, did great wonders and miracles among the people.
Faith comes with power and wonders of Jesus.
Ac 14:9 The same heard Paul speak: who stedfastly beholding him, and perceiving that he had faith to be healed,
You cannot ask Jesus to heal, unless you perceive the person has enough faith for Jesus to heal. This is a major clue to receiving witness power from Jesus.
Ac 14:27 And when they were come, and had gathered the church together, they rehearsed all that God had done with them, and how he had opened the door of faith unto the Gentiles.
Faith is a door...
Ac 15:9 And put no difference between us and them, purifying their hearts by faith.
Faith purifys hearts
Ac 16:5 And so were the churches established in the faith, and increased in number daily.
Faith brings people to churches, in this context is used as a term to refer to people who have relationship to Jesus... hence "relationship to Jesus" means "being in the faith".
Ac 20:21 Testifying both to the Jews, and also to the Greeks, repentance toward God, and faith toward our Lord Jesus Christ.
We must turn toward GOD and have faith in Jesus.
Ro 1:17 For therein is the righteousness of God revealed from faith to faith: as it is written, The just shall live by faith.
Notice Paul uses the only verse in the original Holy Writings that speaks about the straight ones live by their faith.
Ro 3:3 For what if some did not believe? shall their unbelief make the faith of God without effect?
Paul speaks in Romans about us who lack faith, and how this affects our salvation:-
First our lack of faith does NOT affect GOD's love towards us.
All have sinned and come short in a relationship to GOD

Ro 3:22 Even the righteousness of God which is by faith of Jesus Christ unto all and upon all them that believe: for there is no difference:

Being straight in GOD comes via faith in Jesus Christ, unto all.

Ro 3:25 Whom God hath set forth to be a propitiation through faith in his blood, to declare his righteousness for the remission of sins that are past, through the forbearance of God;

Here Paul says that faith in Jesus blood is important, because Jesus blood removes our past sins.

How does faith in Jesus blood remove our past sins?

Animal blood cannot remove past sins, but was practiced as a type of Jesus' blood that would be shed upon the cross. Animals sacrificed were innocent of sinning, free of disease and defects, born in a world of condemnation, as Jesus would be also born into, yet only faith in Jesus blood could remove our past sins. Why ?

Obviously some power via faith in Jesus' blood removes our past sins...whose power via faith is this?

Is it the Father's power only, via faith in Jesus Name as some theories of faith claim, the Father forgives mankind of their sins through a sinless human known as Yeshua who lived from Mary's time?

Such a theory of faith, makes the power flow only from the Father, and such love becomes relational because a Father's love bounces off other beings in giving and receiving love. Under this model a Father generates love by Himself, thus on earth as a simile of our Father, and poetry pictures of Elohiym, we should be able to love self, as our Father does under this theory of faith. But the Holy Writings do not support idea that self love is truth. Loving self is a Satanic abuse of love and a false idea coming from misreading Scripture translations.

For more, see Father cannot love alone

Love is generated by beings in a kind as a family of beings, that flows from the Strong One in the family home. This is how the Holy Writings show us love, and the two words about love. Thus the power that flows from faith in Jesus' blood, has to be Jesus' own creative powers of ongoing life, that is added to the Father's love that flows into this mix, and through faith in Jesus love, do we humans have forgiveness of our past sins. This explains why the heavenly Elohiym had to come down into a world of condemnation, so that the Father's love of relationship could be added to humans who are sinning, and bring them back into a relationship without sinning.

Did not Jesus say once to a man steeped in guilt, thy sins are forigiven?

Lu 5:20 And when he saw their faith, he said unto him, Man, thy sins are forgiven thee.
21 And the scribes and the Pharisees began to reason, saying, Who is this which speaketh blasphemies? Who can forgive sins, but God (elohiym) alone?

For Jesus to say this, He was not just human, but also of Elohiym, otherwise Jesus would have sinned saying He could forgive sins.

Therefore the faith in Jesus' blood, has to be His own creative powers of living, that overcomes dying, because the Holy Writings speak of life in the blood, as a poetry way of saying only GOD is supporting life...

Ro 3:27 Where is boasting then? It is excluded. By what law? of works? Nay: but by the law of faith. (KJV)

Ro 3:27 Where is boasting then? It is excluded. By what teaching? of works? Nay: but by the teaching of faith. (Ancient Hebrew)

Some Jews tried to be holy by following the teachings under their own human powers of work. Does this mean anything to GOD? No, nothing. Only following the faith in Jesus, who followed his own teachings, matters to GOD, for this is a real relationship. If you have faith in Jesus, you walk in His power, doing as He did on earth, following his own teachings, following His Father, doing wonders in Jesus Name and sowing love in others as a witness.

Ro 3:28 Therefore we conclude that a man is justified by faith without the deeds of the law.

Mankind is made straight only by faith in Jesus. Not by humans following Jesus' teaching under human powers alone.

Ro 3:31 Do we then make void the law through faith? God forbid: yea, we establish the law.

Does faith in Jesus make void His teachings? No, faith in Jesus establishes His teachings, because once you have faith in Jesus, and are saved by faith in Jesus, you will walk as Jesus walked, following His own teachings, doing as Jesus did.

Ro 10:6 But the righteousness which is of faith speaketh on this wise, Say not in thine heart, Who shall ascend into heaven? (that is, to bring Christ down from above:)

Paul adds Christ into this OT verse, showing that in the OT, it was Jesus from heaven that came down to save mankind.

De 30:10 If thou shalt hearken unto the voice of the LORD thy God, to keep his commandments and his statutes which are written in this book of the law, and if thou turn unto the LORD thy God with all thine heart, and with all thy soul.
11 ¶ For this commandment which I command thee this day, it is not hidden from thee, neither is it far off.
12 It is not in heaven, that thou shouldest say, Who shall go up for us to heaven, and bring it unto us, that we may hear it, and do it?
13 Neither is it beyond the sea, that thou shouldest say, Who shall go over the sea for us, and bring it unto us, that we may hear it, and do it?
14 But the word is very nigh unto thee, in thy mouth, and in thy heart, that thou mayest do it.

Paul adds Christ into this OT verse, showing us Jesus came down from heaven, even in OT times:

Ro 10:6 But the righteousness which is of faith speaketh on this wise, Say not in thine heart, Who shall ascend into heaven? (that is, to bring Christ down from above:)
7 Or, Who shall descend into the deep? (that is, to bring up Christ again from the dead.)
8 But what saith it? The word is nigh thee, even in thy mouth, and in thy heart: that is, the word of faith, which we preach;
9 That if thou shalt confess with thy mouth the Lord Jesus, and shalt believe in thine heart that God hath raised him from the dead, thou shalt be saved.

Thus Jesus' faith is added to our Father's faith, and it is by collective faith in Elohiym, that salvation flows down to mankind.

Ro 10:17 So then faith cometh by hearing, and hearing by the word of God.

Thus f aith comes as we humans come to hear and understand the words of Elohiym. Faith is based on evidence that cannot be readily seen or known, but we have hope that such power does flow because we believe in it.

Ro 11:20 Well; because of unbelief they were broken off, and thou standest by faith. Be not highminded, but fear:

It seems the opposite power of faith is unbelief...

Ro 12:6 Having then gifts differing according to the grace that is given to us, whether prophecy, let us prophesy according to the proportion of faith;

We receive powers according to the measure of our faith...

Ro 14:1 ¶ Him that is weak in the faith receive ye, but not to doubtful disputations.

One can be weak in faith, and still believe

Ro 14:22 Hast thou faith? have it to thyself before God. Happy is he that condemneth not himself in that thing which he alloweth.

The Greek word for "thyself" is "seautou", and the Author finds a Hebrew equivalent using cross referencing to the OT.

Faith is presented here as a relationship concept with GOD.

Mt 19:19 Honour thy father and thy mother: and, Thou shalt love thy neighbour as thyself (Greek seautou) "like".
Le 19:18 ... but thou shalt love thy neighbour as thyself (Hebrew kamow) "like":

The poor translation does not finish the Hebrew term "like", "a phrase to compare something to something else".

Le 19:18 Thou shalt not avenge, nor bear any grudge against the children of thy people, but thou shalt love thy neighbour like the LORD. (translated correctly)

Notice how we love our neighbour as how YHWH loves us...such loving is based on relationship, not self loving.

Why is there no example of (Hebrew kamow) referring to "thyself" and yet in the NT, the "Greek seautou" has references to "thyself" lots of times?

Ro 14:22 Hast thou faith like Elohiym. Happy is he that condemneth not "like" which he alloweth (author trying to evaluate the verse).

Our faith is compared to the faith like being before Elohiym. Jesus had a similar faith like being before His Father.

Ro 14:23 And he that doubteth is damned if he eat, because he eateth not of faith: for whatsoever is not of faith is sin.

What a strange context...The Greek word here is "hamartia" or Hebrew "chataah", meaning "sin-offering", how can a lack of faith be "sin-offering"?

Is the meaning of "chataah" wrong? We have:-
Verb "chata" meaning missing or sinning
noun "chet" meaning missing complete or sinning complete
noun "chataah" meaning sin-offering, the sinner packages his sinning unto a sin-bearer (Jesus)

Hebrew would not have two words meaning the same thing, as translators suggest, ie "sin".

1Co 13:13 And now abideth faith, hope, charity, these three; but the greatest of these is charity.

None of these things are mentioned in the steps to Jesus, but obviously we must have them.

1Co 15:14 And if Christ be not risen, then is our preaching vain, and your faith is also vain.

Jesus is our only hope of salvation.

2Co 4:13 We having the same spirit of faith, according as it is written, I believed, and therefore have I spoken; we also believe, and therefore speak;

Faith is supporting what the holy writings say, and acting out in these writings, believing such power exists in the writings..thus by making the writings holy by what I do, I am having faith in God and supporting Him. This is a major clue to how faith works.

The Hebrew word "qodosh" does not mean "holy", it means "special", and so it is what I do with the writings that makes them "special" or "holy", and so I "support God" or have "faith in His words" ; receiving the power flow of Jesus from those words.

2Co 5:7 (For we walk by faith, not by sight:)

And yet our support to GOD is not by sight, so daily wonders that we see is NOT suporting Him, we must walk in hope that His words are always true and powerful.

2Co 8:7 ¶ Therefore, as ye abound in every thing, in faith, and utterance, and knowledge, and in all diligence, and in your love to us, see that ye abound in this grace also.

Supporting God is a part of other things we also have, such as "grace" or the "beauty of Jesus" in our hearts.

2Co 13:5 Examine yourselves, whether ye be in the faith; prove your own selves. Know ye not your own selves, how that Jesus Christ is in you, except ye be reprobates?

Constantly study the writings and pray powerfully using those words of power, to examine how our "Faith" in God is.

Ga 2:16 Knowing that a man is not justified by the works of the law, but by the faith of Jesus Christ, even we have believed in Jesus Christ, that we might be justified by the faith of Christ, and not by the works of the law: for by the works of the law shall no flesh be justified.

This writing tells us faith comes from us doing or supporting what the writings say, but some can do what the teachings say in human power based on legalism. Our doing does not make us straight or righteous, because we have sinned at least once, and thus according to that sin we must be separate eternally from GOD. So our doings cannot save us, or make us acceptable to GOD. God might love what our doings are doing with His teachings, but He cannot allow us to be saved by them, because we have at least sinned once before. Only Jesus who came as a human like us, but lived in relationship to GOD with faith in His Father, also supported the writings by doing exactly what the writings said every day, is able to be accepted by GOD forever, because Jesus never sinned or broke the relationship to GOD, not even once, not even in thought. Jesus lived a perfectly sinless life, while in a human body like we have.

Ga 2:20 I am crucified with Christ: nevertheless I live; yet not I, but Christ liveth in me: and the life which I now live in the flesh I live by the faith of the Son of God, who loved me, and gave himself for me.

And when we allow Jesus' life to overpower us, we live daily because Jesus lives daily in us, so we have faith now in Jesus.... that means we doing the writings to support Jesus...since He is living in us, our shortfalling and our training comes from Jesus, who forgives us and daily empowers us when we give support to His teachings.

Ga 3:2 This only would I learn of you, Received ye the Spirit by the works of the law, or by the hearing of faith?

Paul introduces a difficult thought...
works of teachings, and
works of supporting the teachings.

What is the difference? James talks about the "works of faith that support Jesus" showing others that Jesus is alive as a relationship is us. Paul in Galatians is saying our works following the teachings does not save us.

So what is the difference? It has to be the Hebrew word most common in the OT, and it is "baal" that means "master". Paul is saying that those who are "master" of their own lives, are using human power to follow the teaching in order to be saved... this is legalism...and in fact there is no relationship here... you are trying to reach GOD on your own...impossible to do...

The other solution is to kill the master of self in you, allow another master to rule over your sou l, who is called Jesus, and now you support Jesus' writings in both His former rain (OT) and His latter rain (NT) so by faith in Jesus or supporting His words, you demonstrate Jesus is saving you... Your doing is really a response to His love for you, not a human power to please Jesus, but because you are responding to Jesus loving you, you have a daily relationship with Jesus, and you walk into heaven with Jesus hand in your hand. So you're never alone.

There is a huge difference between these two religions, even if they both appear pious.

Ga 3:9 So then they which be of faith are blessed with faithful Abraham.

Some say when we look into the OT writings, Abraham lacked faith, but the NT writings say Abraham had tremendous faith.

In chapter 12 of Genesis, we see Abram hear YHWH speak to him, and Abram supports YHWH by building altars of worship. Also Abram hears the voice and obeys, and leaves. The deception of Sarah being both a sister and a wife, is a lack of faith, showing Abram was human, like us, with weaknesses in his faith.

Ga 3:11 But that no man is justified by the law in the sight of God, it is evident: for, The just shall live by faith.

Paul is making no sense here, because if a person is straight by faith, and faith is supporting the teachings, how is it Paul says no man is straight by the teachings?

Ga 3:12 And the law is not of faith: but, The man that doeth them shall live in them.