Q54: 61. "Zacchaeus"
Show the Desire of Ages is inspired..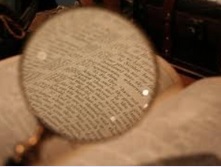 (1) Salvation (Jesus) knows you
Suddenly, just beneath the fig tree, a grouphalts, the company before and behind come to a standstill, and One looks upward whose glance seemsto read the soul. Almost doubting his senses,Page 554the man in the tree hears the words, "Zacchaeus, make haste, and come down; for today I must abide atthy house."
Ac 9:11 And the Lord said unto him, Arise, and go into the street which is called Straight, and enquire in the house of Judas for one called Saul, of Tarsus: for, behold, he prayeth,
Notice the Lord (YHWH) Jesus knows where you live, your name and what your doing every minute of the day.
You are special and Jesus loves you. Salvation is the Hebrew word for Yeshua, or Jesus. Salvation is not a process by Jesus, it is you allowing the Person called Salvation to have a relationship with you.

(2) An example of salvation
Now love and loyalty to his new-found Master unseal his lips. He willmake public his confession and his repentance.
Page 555
In the presence of the multitude, "Zacchaeus stood, and said unto the Lord; Behold, Lord, the half ofmy goods I give to the poor; and if I have taken anything from any man by false accusation, I restorehim fourfold."And Jesus said unto him, This day is salvation come to this house, forsomuch as he also is a son ofAbraham."
Here is an example of salvation (Jesus) coming to live and dine with a man called Zacchaeus.
In the book of Jesus at the end of a poetry figure of Jesus marrrying us as adultery sinners, we find Jesus' steps to Christ:-
Yeshua 14:1 O "Zacchaeus" , return unto the LORD thy God; for thou hast fallen by thine guilt (Ancient Hebrew).
Did Zacchaeus do this step? Yes, he was up the tree, decided to return to Jesus, as scholars who like to invent scholarship say "repent".The man knew he was burdened with guilt as a sinner.
Yeshua 14:2 Take with you words, and turn to the LORD:
In the second step, did Zacchaeus take words of the Bible to repent to Jesus? Yes, He supported Jesus power flowing through him by claiming specific words where one wronged against another was required to compensate fourfold.Such is a wonderful demonstration of Zacchaeus responding (femaleness-love) to Jesus maleness-love.In other words the Divine Relationship grew in his heart, and he responds to relationship with joy.
Yeshua 14:2 say (pray publically or privately) unto him, Lift away all guilt, and receive us graciously: so will we render the calves (fruit) of our lips.
Finally Zacchaeus speaks a pray of joy and confession, the fruit of his lips, responding to Jesus growing inside him.
How simple and easy it is to grow in Jesus, if you let Him.It is natural and you already have the gift of child like faith to do so...all you have to do is return to Jesus, knowing your guilty as a sinner, and taking specific words with you to support your Lord growing inside you,say publically or privately the joy you feel when Jesus grows in you, let your fruits of Jesus shine and others will want to seek this character change out and praise God in heaven for a wonder change in you.
If you cannot do something so easy as this and get stuck on details of pride...
See the Steps of Jesus in greater detail

If the reader tries to find "how to be saved by Jesus" on the Internet, all the websites I checked out look for New Testament writings explaining "how to be saved".This is NOT the correct place to find how to be saved by Jesus.
..
(1) First Jesus did not exist only in the New Testament. So how did believers before the New Testament get saved by Jesus?
(2)We should find than in the Holy Writings a Scroll called the Scroll of Yeshua, which tells us how to be saved by Yeshua (Jesus).Is this true? Yes. How many websites know this? Only this website and praise Jesus for showing this.
So in chronological order in one passage, where does it say "how to be saved", in simple child like faith, that even a child can understand?
In the "Book of Jesus" last chapter, 14 and verses 1 and 2.
See the Steps of Jesus in summary

The next chapter of Desire of Ages..we look at "The Feast at Simon's House"